Skip to Main Content
It looks like you're using Internet Explorer 11 or older. This website works best with modern browsers such as the latest versions of Chrome, Firefox, Safari, and Edge. If you continue with this browser, you may see unexpected results.
Writing Center
The Writing Center at Elmira College helps students improve each stage of their writing, from brainstorming to the final draft. Assistance includes one-on-one consultations with Writing Center staff or peer tutors and workshops that support writing and citation skills for the entire EC community.
Drop in or make an appointment for a consultation.
Ask Us!
You can contact us any time for help.
Call the Library Services Desk at (607) 735-1862.
E-mail us at resdesk@elmira.edu
Text a Librarian (607) 953-6060 (see hours in box at right)
MLA & APA Citation Styles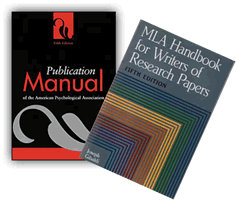 Visit the How to Do Research guide for information about MLA & APA citation styles, formatting guidelines, and citation examples.
Off-Campus Access
The Library provides remote access to journals, magazines, newspapers, E-books, streaming videos, and more.
To access these resources from off-campus, when prompted, enter your login credentials for the EC network. If you have problems, consult the link below, or call the Library Services Desk at (607) 735-1862.
Help!
For research help, use one of the following options:
Ask the GTL
General Information & Research Help Phone: (607) 735-1862
Research Help Email: researchhelp@elmira.edu
For help registering a device, password reset and more: EC IT Resources and Services